South Main Street Looking North, Middletown, Connecticut
August 2, 1742-
A daughter, Mary, is born to Jacob Whitmore & Rebecca Hurlbut in
Middletown, Connecticut
.
August 8, 1742-
Robert, infant son of Robert Hubbard & Elizabeth Sill, dies in Middletown, Middlesex,
Connecticut
. He is five months old. He is buried in
Mcdonough Cemetery.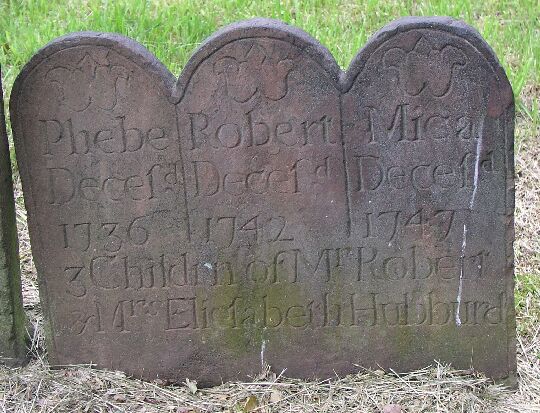 Gravestone of Hubbard children.
(Robert Hubbard is my third cousin 7 times removed. Our common ancestors are George Hubbard & Elizabeth Watts and Thomas Wetmore & Sarah Hall. Marty Whitmore is his fourth cousin.
Mary Whitmore is my third cousin 8 times removed. Our common ancestors are John Whitmore and William Cornell & Mary Bailey.)
Religious affairs formed one of the most important problems in the life of Connecticut. The established ecclesiastical system was the Congregational. The Code of 1650 (Connecticut) taxed all persons for its support, provided for the collection of church taxes, if necessary, by civil distraint, and forbade the formation of new churches without the consent of the general court. The New England Half Way Covenant of 1657, which extended church membership so as to include all baptized persons, was sanctioned by the general court in 1664.
The custom by which neighbouring churches sought mutual aid and advice, prepared the way for the Presbyterian system of church government, which was established by an ecclesiastical assembly held at Saybrook in 1708, the church constitution there framed being known as the "
Saybrook Platform
." At that time, however, a liberal policy towards dissent was adopted, the general court granting permission for churches "soberly to differ or dissent" from the establishment. Hence a large number of new churches soon sprang into being. In 1727 the
Church of England
was permitted to organize in the colony, and in 1729 a similar privilege was granted to the Baptists and Quakers.
A religious revival swept the colony in 1741. The very existence of the establishment seemed threatened; consequently in
1742
the general court forbade any ordained minister to enter another parish than his own without an invitation, and decided that only those were legal ministers who were recognized as such by the general court. Throughout the remaining years of the 18th century there was constant friction between the establishment and the nonconforming churches.
1911 Encyclopædia Britannica