December 8, 1724-
John Blake dies at the age of 41 in
Middletown
,
Middlesex
,
Connecticut
.
John Blake was born in
1683
at Middletown. He was a farmer. In
1705
, he married Elizabeth Johnson. The
marriage
produced six children
The inventory of John Blake's property was taken
January 19, 1725
, by Jonathan Blake, Stephen Blake and William Whittmore. The administration was granted to his widow Elizabeth on
Feb 2, 1725
.
On
January 8, 1729
, Joseph Blake, John and Elizabeth's 16 year-old son, chose Captain
Daniel Hall
to be his guardian.On
May 4, 1736
, following the
death
of Elizabeth, their minor son, Freelove Blake, 17 years of age, chose his uncle Stephen Blake of Middletown to be his guardian.
The will of Elizabeth Johnson Blake was taken
March 23, 1736
, by Daniel Hall and Stephen Blake. The Will was dated February 4, 1736. It is quite touching to read:
I, Elizabeth Blake, widow relict of John Blake the 2nd, late of Middletown, do make my last will and testament as follows: What right I have in lands in Woodstock shall be equally divided among my foure sons, viz., Richard, John, Joseph and Freelove. And that my moveable estate shall be equally divided among my fower sons, except one pair of steers 3 years old next spring, which steers I give to my son Freelove besides his equal quarter-part of all my estate whatsoever. I also give unto my son Freelove that gun which I bought with my own money. The reason why I give the above particulars to my son Freelove is because he hath taken care of me and my creatures and wrought for a great part of them. It is my will that what right I have in lands descending to me in right of my father shall be equally divided amongst my four sons. I give to Mary Bevin, who liveth with me, one cow. I appoint my son Richard sole executor.
Witness: Elizabeth Kent, Esther Blake, Joseph Rockwell.
Elizabeth X Blake, ls.
December 16, 1724-
Mercy Blake dies at the age of 51 in Middletown, Middlesex, Connecticut. Mercy was born at Middletown in 1673. She married Samuel Roberts in 1691. One day after the death of Mercy Blake Roberts, on
December 17, 1724
, her son Samuel Roberts died at the age of 32 in Middletown. Once again, I wonder if these deaths can be attributed to the
smallpox epidemic
that was raging in the area at the time.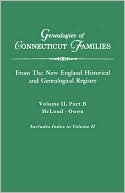 (John Blake is my seventh great granduncle. Mercy Blake is John's sister, therefore my seventh great grandaunt. Jonathan and Stephen Blake are their brothers. Our common ancestor is Sarah Hall.)