October 7, 1724-
Jonathan Randall dies at the age of 36 in
Providence
, Providence, Rhode Island. His young daughter would die two weeks later.
An epidemic of
Small Pox
is known to have began in
Plymouth Colony
in August of 1724 and raged through the area until June of 1725. This may have caused these two untimely deaths.
A 1724 account of the epidemic.
Jonathan Randall was a
physician
. His wife, Bethiah Howard, absented herself and refused administration of his will and it was given to
William Harris
, a principal creditor. He was buried at the
North Burial Ground
, Providence, Rhode Island.
October 24, 1724
- Jonathan's daughter, Mary Randall, dies at the age of 7 in Providence, Providence, Rhode Island.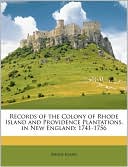 (Jonathan Randall is my seventh great granduncle. Mary Randall is his daughter. Mary Randall is my first cousin 8 times removed. Our common ancestors are William Randall, Jr. & Rebecca Fowler.)